Not the Valentine's Day post you were expecting?
My next used lot happened because I got itchy. I was visting my folks in Florida (opposite side of the country) for 2 and a half weeks. I figured the first thing I wanted to do was check the local Craigslist and OfferUp for some LEGO. I didn't find very much but there was one lady with "Legos lots of them". I checked the pictures and saw some decent pictures. She was asking $60 which seemed reasonable for the amount in there.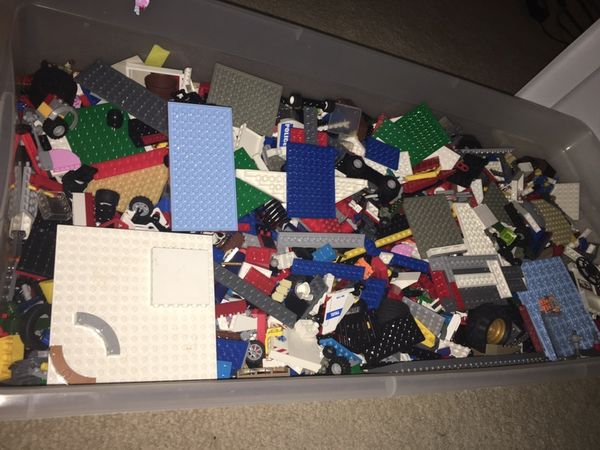 We met and I picked up the lot, taking a quick glance through it. She noted how much Ninjago was in there and that her son was selling it to get money for RC cars. I had noticed in the picture that there were some clones mixed in. That quick glance told me that there was probably a little more clone brand than I wanted but whatever. I got it back to the house and started sorting.
Oh. My. Mega. It never ended. Almost half of the lot ended up being clone. I pulled out the legit minifigs (including a $12 Boba Fett) and put them in a baggie. About a dozen were complete but not worth much on Bricklink, maybe $2 each. There might have been around 30 figs in some state of completion. The rest of the pure stuff I got packed into 2 gallon baggies at about 2.5# each.
With the figs it was about 6# in total. At a bulk price that's $10/# for the LEGO pieces, junk for free. If the figs had any value it might be $30 which would make my remaining 5# of LEGO parts $6/#. Still somewhat reasonable I guess for my own play brick. At least the Boba Fett helped pay for the lot and there were several pieces that I needed for my own MOCs.
Yeah, there was some Ninjago in there. But there was also a bit too much Friends for an apparent 12 year old boy who was changing hobbies. I didn't expect the enormous amount of clone brick to be mentioned. All in all I should have passed on the deal but that probably would have meant no LEGO downtime on the trip.
Lessons learned:
Clone brick is great weight filler. Not good if you're buying.
People are not completely honest, even about things that don't matter.
You may often wonder where the other half of every set went,